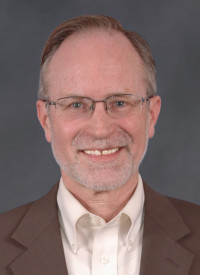 Chris has dedicated over twenty years to diocesan and parish work.  He is Director of the Office for Ministries and Social Concerns of the Diocese of La Crosse, where he established and directs the Lay Formation Institute.  He also works in clergy formation as Associate Director of the Permanent Diaconate Program.
Chris is passionate about fostering renewal in the Church through small groups and teams.  He is convinced that healthy renewal depends not only on the workings of grace, but on addressing human and interpersonal dynamics and the challenges and opportunities they present to any organization.  He believes solutions emerge from attention to core principles and practices in a context of complete trust in God.
Along with a STL in Theology from the John Paul II Institute for Marriage and Family in Rome, Chris holds a Master's Degree in Counseling Psychology and practiced individual and marriage counseling for six years in his work for a large parish in Minneapolis, where he also directed RCIA and adult faith formation.
Chris has taught many classes as an adjunct professor, most recently for the Master's program of the Institute for Pastoral Theology of Ave Maria University, including Christian Anthropology and Pastoral Care.  He has also lectured widely in the U.S. and Canada on a variety of topics.
Finally, Chris has written for multiple Catholic publications and developed small group resources and a DVD for the Discipleship Series, distributed by Catholic Word.  These resources seek to energize and inspire the average Catholic through a blend of Scripture, reflection, prayer and charitable outreach.
Chris and his wife Clare have five children and live amid the rolling bluffs and apple orchards of La Crescent, MN.
Endorsements 
Chris' work with us was extremely helpful, in regards to mission, cohesion, organization, communication, setting priorities and making meetings more efficient and productive.
– Bishop Donald Hying, Diocese of Gary, IN
Chris Ruff is a faith-filled and insightful presenter who is enthusiastic about equipping today's leaders in ministry with the tools they need to serve and evangelize their parishes.  With several recent additions to my parish staff, the two-day leadership training led by Chris, together with Ann Lankford, has helped to make our team better communicators and united in purpose.  We continue to benefit from that intentional time together in our enlivened, dynamic weekly staff meetings and daily through our cohesive team unity.
– Rev. Msgr. Richard M. Colletti, Vicar General/Chancellor, Diocese of Winona, MN, Rector of the Cathedral of the Sacred Heart, Pastor St. Casimir; Chaplain of Newman Center
Chris Ruff gave our staff the language and the tools to begin working as a cohesive team. By identifying our core purpose and values, as well as by building relationships of trust through vulnerability, obstacles that stood in our way were recognized and engaged. The entire experience was an opportunity for us to grow and to be stretched.
– Joshua P Bitting, Director, Office of Faith Formation, Catholic Diocese of Wichita
Our Parish School has benefited from the outstanding work of Evangelium's Ann Lankford and Christopher Ruff.  Their expertise in team-building dynamics, together with their fidelity to the Catholic Church, is a rare combination.  Our School Staff, like so many today, is in need of renewal in its Catholic identity and mission.  I am grateful to Ann and Christopher for their crucial assistance in this renewal.
– Fr. William Baer, Pastor, Transfiguration Catholic Church, Oakdale, MN
Chris helped provide a training for the new shared leadership team that now assists me in pastoring my two parishes. It was enormously helpful and proved to be an energizing two days. By the end of it, all nine of us were super-excited to be working together as a cohesive team.  Now, four months later, the enthusiasm and positive energy has endured among the members. In addition to coaching us on how to work through conflicts and build greater accountability, he also helped us to see the strengths within our parishes and to become passionate about a shared vision. We are very grateful.
– Fr. Derek Sakowski, Pastor, St. Mary Parish, Altoona, and St. Raymond Parish, Fall Creek, WI
Evangelium is a terrific apostolate and I felt so incredibly inspired and empowered after the training.  I have always felt very close to my coworkers, but you managed to build that bond even more.  Evangelium has built a solid, professional, knowledgeable team that truly knows how to work with Cathholic groups.  I felt very honored to be among all of you.  Thank you so much for an incredibly inspiring training!
– Susan Chabot, Wood Rose Academy, Concord, CA