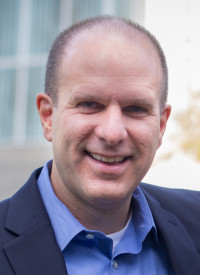 For over 20 years prior to founding Evangelium, Keith led various efforts, teams, and volunteers in several Catholic dioceses, parishes, and apostolates.  After moving home to California in 2005, he struck up a close friendship with Patrick Lencioni who eventually agreed to train him in his consulting method. As they worked closely together in Catholic contexts, with Patrick's blessing Keith founded Evangelium Consulting Group in 2014 to serve the Church.  Keith personally recruited, trained, and now supports each of Evangelium's consultants and currently serves as Founder and President.
Keith is a natural leader, exceptional trainer, and a bold yet empathetic coach.  His colleagues and clients alike appreciate his wisdom and knack for cutting through confusion and complexity.  
Keith holds degrees in Business and Psychology, as well as a graduate degree in Theology and Christian Ministry, with a specialization in Catechesis.
He lives in Walnut Creek, CA with his wife Gina and two of their eight kids, one of whom is a religious sister with the Dominican Sisters of Mary, Mother of the Eucharist.
Endorsements
Evangelium Consulting's assistance was invaluable in moving toward clear vision and more cohesive teams in our parishes.  Our parish leadership teams were enthusiastic about the skill building that Evangelium provided – it was an overwhelmingly positive experience and most parishes are actually implementing the skills.
– Bishop Timothy Freyer, Auxiliary Bishop, Catholic Diocese of Orange 
When our Chancery reorganized to strengthen our ability to serve the pastoral needs of the Archdiocese of Seattle, we contracted with Keith Borchers of Evangelium Consulting Group to help us form a team that is not only smart, but also healthy. Our group had been through a number of types of group processes and we did not just want an ordinary team-building exercise; we wanted to make real concrete progress towards being truly effective.
With a process grounded on Patrick Lencioni's model in the book The Advantage, Keith helped us to establish strategic anchors and move our group toward really becoming a team. We have more work to do, but our two-day off-site with Evangelium has laid the groundwork for that effort. Furthermore, we now have an effective model for our tactical and strategic meetings that keep us on task and let us make real progress.
We are grateful to the work that Keith and Evangelium Consulting have done for us. I am very happy to recommend them without reservation.
– Deacon Eric Paige, Executive Director for Evangelization, Formation and Discipleship, Archdiocese of Seattle
There is something very unique about the process employed by Evangelium Consulting Group. Keith has worked with our team on two different occasions and, although we've been in business for 16 years and believed we were at the top of our game, I was amazed at our level of interaction with each other as a team and our ability to get at the root of what we needed for positive change.
– Mark Van Brunt, Chief Operations Officer, Raza Development Fund, Phoenix, AZ
Keith was engaging, encouraging and totally focused on the needs of our teams. The results of the training have been game changing. We are more trusting in each other and unified in our mission. I would strongly recommend the Evangelium process for any leadership or ministry team.
– James Borkowski, Archbishop's Delegate for Administration, Archdiocese of Vancouver, BC.
Having been through several of these types of trainings, this is by far one of the best.
– Mark Brumley, President, Ignatius Press, San Francisco, CA
Keith's leadership style was stunning. He stepped in and out of the conversation at undeniably appropriate moments. He listened to concerns, while also pointing to – and never backing down from – pursuing the truth and helping us gain clarity.  Thank you so much for your consultation and assistance; it was an answer to our prayer for guidance.
– Natalie Plumb, Catholic Diocese of Arlington, VA
Keith helped us form a stronger, more cohesive team by pushing us to have discussions we might not have had otherwise.  We are so grateful for his work and would recommend him to anyone.
– Mother Judith Zuniga, O.C.D., Superior General, Carmelite Sisters of the Most Sacred Heart of Los Angeles, Alhambra, CA
The Evangelium process helped focus the direction of our school.  I would highly recommend them to any organization.
– Nicole Tittmann, Board Member, Wood Rose Academy, Concord, CA