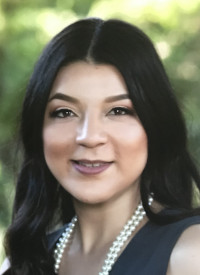 Lizette has approximately 16 years of experience serving the Catholic Church. Her passion and love for the Church have led her to a deep commitment in helping people encounter Jesus Christ. She started off as a committed volunteer at her local parish which quickly grew to greater role in her parish community.
Eventually she moved on to serve at various diocesan committees both in Spanish and English. She has held different positions at the parish level and currently works in the Faith Formation department in the Catholic Diocese of Oakland. Although initially her focus was heavily on youth ministry, she has experience in adult and family faith formation. One of her greatest passions is working with leaders and helping them discover their full potential in serving the Church.
Born and raised in the San Francisco Bay Area, Lizette is completely bilingual and bicultural. Throughout her ministry experience she has worked in Spanish and English communities and has been able to effectively serve them in their needs. 
Lizette received her Bachelor's Degree in Intercultural Communications from San Francisco State University with a Minor in Religious Studies. She then continued on to receive her Master's Degree in Theology from the Franciscan School of Theology, then affiliated with the Graduate Theological Union in Berkeley, CA. 
To date she is always looking at new techniques and forms of gaining more knowledge about evangelization and formation in order to better form herself in her service to the Catholic Church.
Lizette's passion's include organizing, training, mentoring, forming and evangelizing. She enjoys giving workshops to teens, families, married couple and leaders. One of her biggest missions is to help equip leaders to serve to their highest potential.
Lizette and her husband Julio live in Oakley, CA.
Endorsements
Evangelium Consulting's assistance was invaluable in moving toward clear vision and more cohesive teams in our parishes.  Our parish leadership teams were enthusiastic about the skill building that Evangelium provided – it was an overwhelmingly positive experience and most parishes are actually implementing the skills.
– Bishop Timothy Freyer, Auxiliary Bishop, Catholic Diocese of Orange